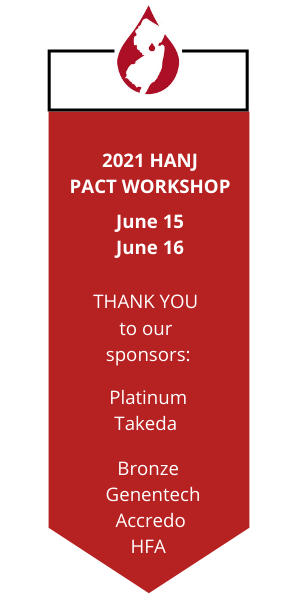 HANJ was proud to host the Partnership for Advocacy and Communications Training (PACT) Workshop this June. This workshop was established by the Hemophilia Association of New Jersey in partnership with Takeda (at the time Baxter) in the early 2000's. Historically, this workshop has been an in-person, one-and-a-half-day advocacy program providing organizational development, education and enhanced advocacy skills to state hemophilia chapters and organizations. The workshop is geared towards training, thought-provoking discussion, and guidance.  This year it looked a little different and the workshop was presented virtually via Zoom to state hemophilia chapters and organizations in 42 states.
Each year we tackle huge issues while collaborating with our fellow advocacy peers around the country. This training allows our Association the opportunity to gain more knowledge and skills as well as collaborate with peers to tackle head-on issues within the bleeding disorders community, so that we are stronger in our legislative efforts each year. This year we dove into crucial conversations regarding; The American Rescue Plan Act as well as the Co-pay Accumulator/Maximizer. We received great tips and gained extensive knowledge from all our speakers this year.  With our newfound knowledge we will continue to improve our messages and communications to community members and legislators.
Thank you to our speakers:
Miriam Goldstein with HFA
Kollet Koulianos with NHF
Kate O'Brien on her Advocacy Journey
Joe Simonetta from Public Strategies Impact
Bill Murray with MWW
HANJ is proud of the leadership role we have played in educating and promoting advocacy efforts on behalf of the bleeding disorder community, not only in NJ, but nationwide.
Click to Listen to the Day ONE Recording
Click to Listen to the Day TWO Recording