HANJ could not fulfill its mission without the support of dedicated volunteers.
Our volunteers offer their time and talent in a number of ways including:
Participation in educational programming
Volunteering for fundraising events
Serving as a board or committee member
Advocating for the community by mailing and calling legislators
This is just a sampling of the ways YOU could serve as a HANJ volunteer.  If you would like to explore how you could join our team of dedicated volunteers, please reach out to Claire Mignano, Marketing & Communications Manager at  cmignano@hanj.org or 732-249-6000.
Meet a few of our volunteers…
---
Meet Matt Porges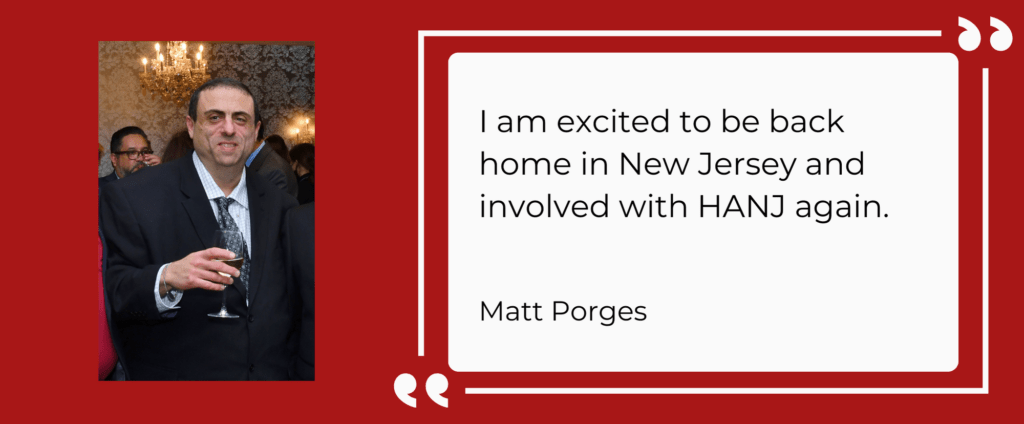 Matt Porges is excited to be back home in New Jersey and involved with HANJ again.  He (or his parents) were involved with HANJ when he was very young, before his family moved to Connecticut when he was seven years old.  Since then, he has lived in Boston and New York City for most of his adult life; Matt recently moved to Jersey City.
When Matt was a child, his parents and grandparents ran blood drives to benefit him and other kids and adults with hemophilia.  People used to show up regularly to donate blood and, even when the blood drives ended, people would ask his grandparents, who lived in Belmar, about how he was doing. Today, Matt has been a practicing lawyer for seventeen years.  He enjoys fundraising and is on the Fundraising Committee at HANJ.  He hopes we will be back to having Casino Night in 2022!
Within the last couple of months, Matt became the co-coordinator of the Blood Brotherhood with Max Feinstein, who was also involved as a kid.   Max is younger but they are looking forward to seeing all of the pictures of them which Mary Lou has found in the HANJ office!
Matt also has been actively involved with other  hemophilia organizations on the national level: National Hemophilia Foundation and the Hemophilia Foundation, the latter of which he previously served as a board member. Other regional organizations which Matt has been involved with include the Hemophilia Association of New York and the New York City Hemophilia Chapter (previously a board member).  He tries to attend the national conventions whenever possible and hopes to attend the World Federation of Hemophilia convention in May 2022.
---
Meet Max Feintein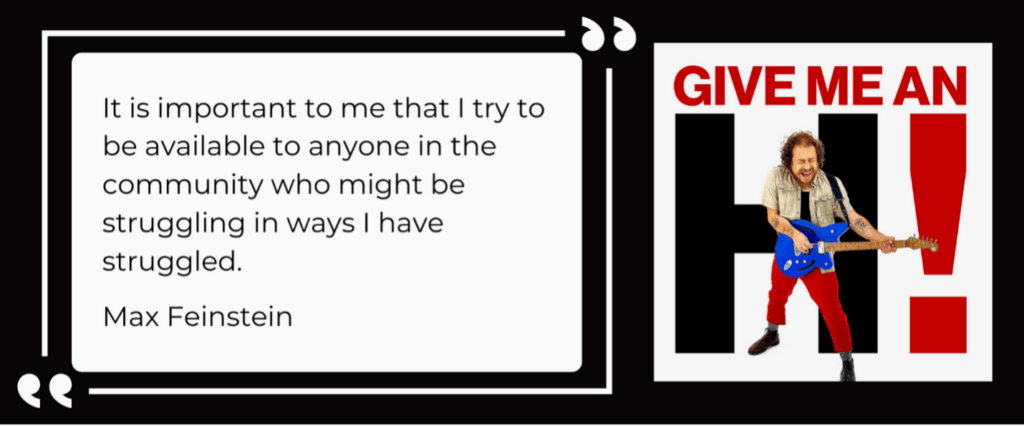 Max was raised in Montclair and his family was very active in HANJ functions.  Max recollects that his mother was an influential member of the community.  And, as a child, Max remembers, "I was the literal poster boy for Hemophilia in New Jersey…there was a poster of me as a child smiling on a bike that the association used in their promotional materials."    Max grew up going to Paul Newman's camps with his buddy Trevor Graham.
Still, Max found the entire hemophilia experience overwhelming.  He reveals, "I found myself resistant to a lot of things that would have helped me.  Simply put, I burned out until I managed to reinvigorate my passion for advocacy through the voice of my musical platform." Over the last two years, Max became active in the community again.  He is a member of the Education and PR committee as well as the Mental Health Committee. Max recently became co-coordinator of New Jersey's Blood Brotherhood program. 
Max creates musical programming in collaboration with national and state-level organizations. He is currently working on an album vis-à-vis his life through the lens of hemophilia. Max feels it is important that he tries to be available to anyone in the community who might be struggling in ways he has struggled.  Max adds, "I feel the need to help those who feel unseen feel seen regardless of age, gender, and condition.  We are a community one and all."
---
Meet Trevor Graham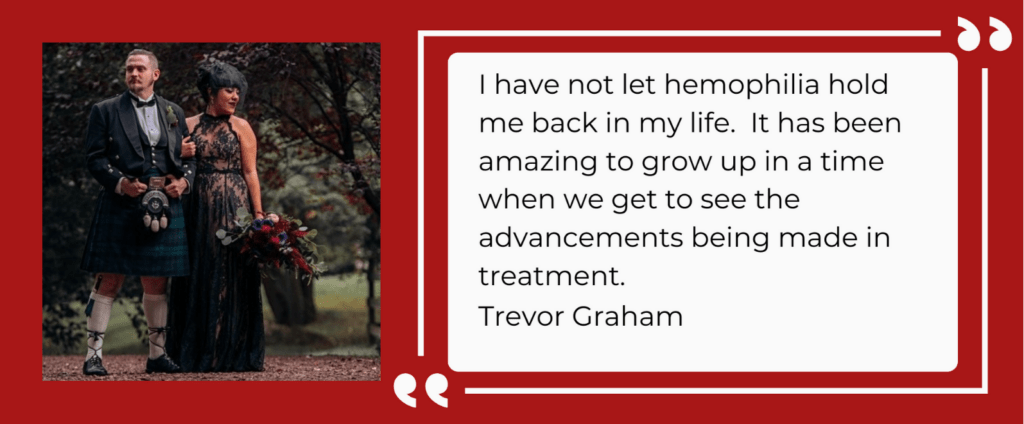 Trevor is the newest member of our Publicity & Education Committee. We appreciate Trevor's commitment to the community. In his own words, Trevor explains a bit about how the community was there for him, "I'm a severe Hemo A from New Jersey.  Growing up with hemophilia as you all know had some challenging moments throughout, but I was lucky enough to have supportive parents as well as a community to help get me through those hard times. One of my best friends growing up, Max Feinstein, also had hemophilia and we would go to Paul Newman's camps together for the summer."
Trevor has an amazing attitude and goes on to say, "I have not let hemophilia hold me back in my life. I certainly made some questionable sports choices in high school and college including lacrosse, boxing, and hockey.  I don't necessarily advise any of them because I am older now and my joints ARE NOT stoked about it!
But I am older and hopefully wiser now." Trevor expresses his gratitude for the medical progress made in his lifetime, "It has been amazing to grow up in a time where we get to see all the phenomenal advancements they are making and have made when it comes to treatment."  Trevor is married to one of his best friends from high school, Sydney Harp.  Trevor works for a nonprofit consulting firm and plays music (for fans of grindcore/heavy metal/punk) in a band called Organ Dealer.  Trevor's parting words include, "I am so excited to now be a part of the Publicity & Education Committee! Thanks so much for reading and I'll see you in the FB Hemo groups!"